6 Murals. 6 Towns. 6 Australian Stories.
6 Murals. 6 Towns. 6 Australian Stories. — All Episodes

→
E1

Guido Van Helten, Abandoned Silo Transformed

E2

Adnate, Indigenous Recognition

E3

Kaff-eine, Women On Farms
The Silo Art Trail is Australia's largest outdoor gallery. The trail stretches over 200 kilometres and celebrates the region's inhabitants through a series of large-scale mural portraits painted onto grain silos, many of which date back to the 1930s. The project aims to drive tourism back to these small country towns that are fighting to stay alive. To supplement the incredible artwork and to further spark interest from tourists, we were commissioned to create accompanying short form documentaries, to capture the heart, challenges, and majestic nature of the Wimmera-Mallee region.
The first silo artwork in Brim, and our video produced for the project, resulted in widespread international media attention and an influx of visitors to the region. We then went on to capture sheep racing at an annual music festival, the refugee community from Myanmar, and young girls fangin' through paddocks in ute's; we experienced some pretty incredible stuff!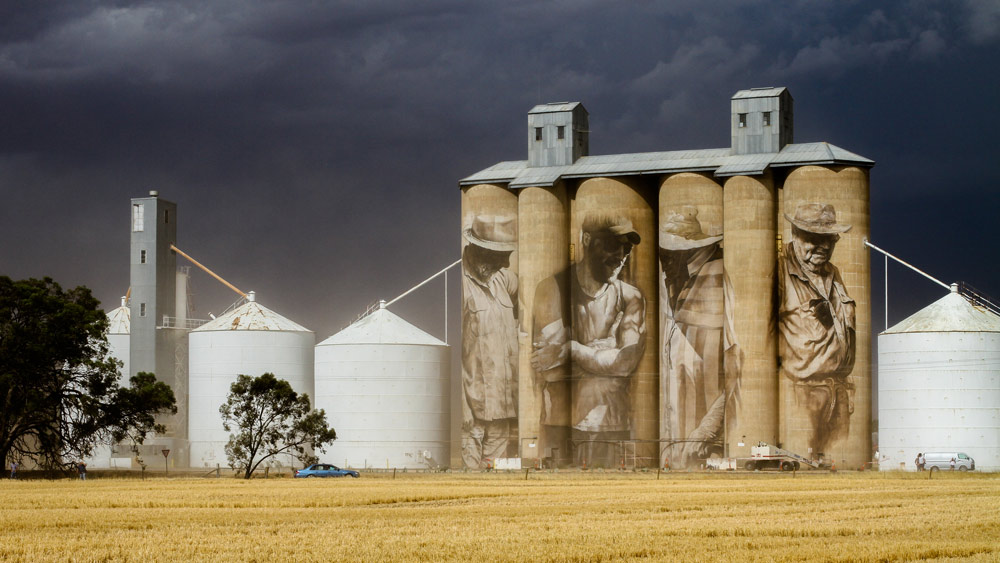 We sent our Researcher Dylan up for a week to begin driving from town to town building contacts. Distances were long (the trail is 5 hours from Melbourne), and the conditions at times stinking hot. Phone reception failed (yes, thanks Telstra) and our subjects were dispersed widely across the region. The artworks were created over 12 months, which all attributed to the logistical feat, weighing up capturing the artists murals progress and the people's stories.
The challenge with short online content is especially hard; what is your story and how can you most succinctly tell it? We feel that online documentaries should never feel tiresome. Our key goal for the series was to create stories that unveil insight. The people are the real draw card; these small, and yet, passionate communities.
Each artist reflected different themes specific to these country towns. These themes ranged from; the role of women and how progress is reflected; resilience through the harsh conditions that farmers face; the importance of sporting clubs that unify towns, recognition of the Aboriginal population in the area, the generations of families that are tied to the town; and farming as the predominant industry.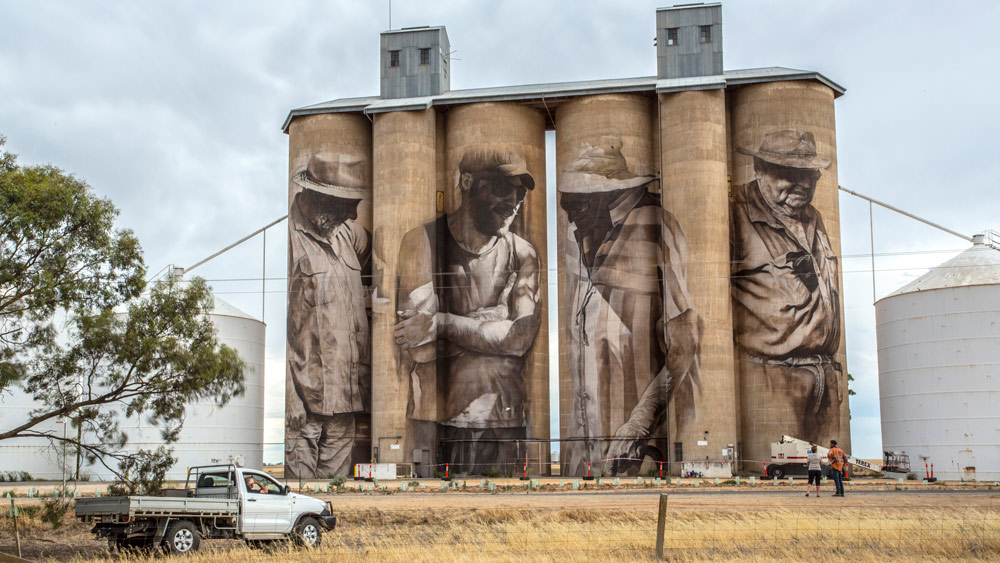 Guido Van Helten, Abandoned Silo Transformed
The first in the series, Guido Van Helten starts the Silo Art Trail in Brim with a focus on country communities and the generations that that are connected to its history.
Awards.